FOLK TALK
An Evening with Roger McGuinn at The Clark, April 9th, 2011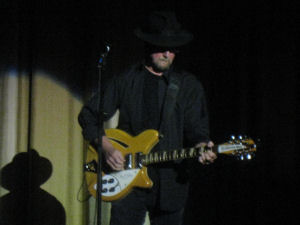 When I was a teenager The Byrds had already come and gone but their Greatest Hits collection LP was still up front and center when it came to album listening. Eight Miles High was my all time favorite. Everyone had to have at least one favorite Byrds tune. I can still hear my friend Tom saying "Play Mr. Spaceman, man". By the mid-70ís the best groups were already gone or winding down and their recorded music was all we had left to show us the way back to the golden era. Still there were the Stones, the Dead, the Dylan, James Taylor, Jesse Colin Young and the country blues folk rock space cowboy thing going strong but the "scene" had all but died while disco and punk were coming on strong to fill the void. The new wave it seemed could only be held at bay through our vigilant album listening parties, our major hanging out activity in our tapestry billowed bedrooms, where we partook in those songs and the rituals of the hippie generation: plunking the needle down on the record and reclining, dreaming and somehow still remembering what it was like when those songs held court over the airwaves. We also hung out in the park a lot and anyone with an acoustic guitar could always be counted on to bang out a few decent Byrds, Dylan or Cat Stevens tunes and the music lived on right up through today where being at An Evening with Roger McGuinn at The Clark was the live version of everything everyone wanted to hear back in our bedrooms had the "scene" lasted just a little while longer and more.
The surprising thing about Rogerís show is the artful storytelling aspect which brings you gently along with him on his incredible rise to fame. All the many lucky and unlikely events that transpired to make his career: from the good teachers at the folk music school he went to in Chicago to the way too high action on his first guitar which forced him to eschew chords and learn a riff from a B-side of a early rock single that coincidentally was the same riff George Harrison was learning at the very same time...The stories are all like that, equally amazing and told in a mood and an atmosphere that makes you float deep back into your own imagination. Then here comes the music. Not a hit was left off the table, the ones you know, the ones you donít, but they were all hits and well constructed thoughtful music at that. Thereís really something to talk about here. A full two hours worth went by so easily with no shuffling in the seats and no short changing either. The life story he shared with us was a magical musical moment. It felt like there was nothing but time and that there was nothing better to do with it.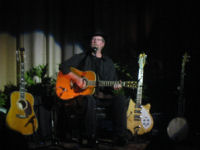 The concert at the Clark was so much more than we had expected with the rousing applauses and the well deserved multiple-song encore. To think I was still vacillating up to the very day as to whether we should stay home and do a video restaurant review of a new restaurant in Pittsfield, or go up north and see the great folk rock pioneer? Well, if reading this review doesnít give you the answer then Iíve failed as a writer. I want to let people know that I am so glad we went. Iím still singing the songs. I donít even need to listen to music because itís all still there in my head. Sitting back and listening and learning how Rogerís incredible career trajectory mirrored the coming of folk rock and the Beatles is as thorough a lesson in the history of modern recorded music as youíre likely to find and you certainly wonít find it in any college course at least not with the musician himself flawlessly playing and singing to you all the fine examples heís penned or re-imagined. My favorite story of course was how he came up with the hybrid Eight Miles High, which he told us in his most eloquent storytelling style, was simply about a flight across the pond, a simple question of doing the math and his not so simple idea of combining of folk, Coltrane and Indian sitar music. There are many other amazing stories he tells throughout the evening so letting a couple out of the bag to give you an idea of how your mind will be expanded should be forgiven. Thatís the beauty of storytelling. The story will be told for generations to come especially if younger kids go. If they love the Beatles and folk music theyíll love Roger. The Byrds were the American Beatles, they took folk to the next level up and they were the missing link between the Chad Edwards Trio and Limelighters and the folk rock explosion. Roger played with both those seminal folk acts because in the past people came up through the ranks. They didnít just burst on the scene as the next big thing and fizzle out.
Recently I was scouring the racks at one of the last standing record shops around, a great pleasure that will be sorely missed when theyíre all gone, and I came across the Byrds Greatest Hits CD for $7.99 while I was looking for new folk acts like The Monsters of Folk, The Low Anthem and Wilco but it was the Byrds CD I had to have. When I saw that Roger was playing locally it just seemed like kismet. I do not want to disparage or dissuade anyone from listening to new folk or new folk rock music a/k/a "Alt Country" because of course that is our mantra at NFC, so please go out, listen and buy new music. But seeing "An Evening with Roger McGuinn" and listening to The Byrds Greatest Hits CD I realized that we all should pay more attention to what has already been created in order for us to truly offer up something new and inspired. The Clarkís auditorium by the way has fantastic acoustics and is a very comfortable venue to see an intimate concert.
Roger, Wilco, over and out...see you next time.Steve Gabe, 5/1/2011