FOLK TALK Magazine
Joan Baez
at the MAYO in Morristown NJ November 16th 2011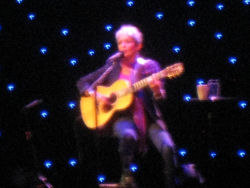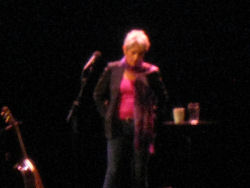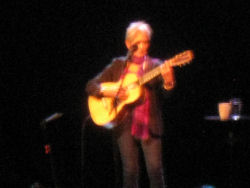 Don't Think Twice just GO!
Yeah she did that timeless Dylan classic with an impersonation for the last refrain that only she could get away with. "Yoer jes a'wasteen'mah precious tiyeemmmmme" and she was not wasting anyone's time. I tried this trick once and should have stuck with a more traditional folk singing voice but Joan pulled it off because, well, she can at this point, she's earned it. A great adoring sold out crowd was on hand and we appreciated every song she sang for us. She opened the concert with a song by Steve Earle "God is God" who produced and collaborated on her newest 2011 studio release "Day After Tomorrow" a Tom Waits song also on the album but one she didn't do at the concert.
Her repertoire is so deep that the song list she did play seemed to work just the right magic, a tent revival sort of show, a real throwback 60's concert where substance and meaning trumped just going through the hits. She said every night on tour after the first song she knows whether this is going to be work or a "just a playing the songs" concert. She let us know she was just enjoying playing and she was comfortable in her own very nice looking skin and body. Joan is fit, sexy and still has a very hip yet down to earth style after 53 years of performing or maybe that's been her look all along and it's just coming back? Either way, Joan is not hung up on nostalgia and she's as pleasant on the eyes as she is to the ears.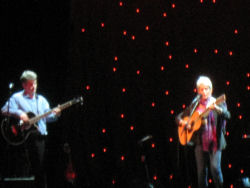 They were all songs that we knew more or less and if not her introductions made them so. She's a musician's musician, as we like to say, and along with her one man band, Dirk Powell, who accompanies her on get this: guitar, bass, banjo, violin, mandolin, accordion and a surprisingly adept fluid and rollicking upright piano (Can the guy do dishes?) there was a full night of great music to behold. He is a fantastic sideman and she did one of his songs. I'm sure the playlist changes from night to night so I won't list the entire show but for the fanatics out there I wrote it down and it's available on request. For me the single highlight was "With God on Our Side" she does that Dylan masterpiece justice and has the civil rights activist background to give it full meaning.
We live in turbulent times once again and Joan is not one to back down although she was deferential to the facts of discord and said "I can always tell when there's a political problem by the crossed arms and frowns I see in the audience" when she says something that maybe not everybody can agree with and she thinks they're mumbling to themselves "Oh, Joan she's at it again." But hey, that's been Joan all along. Let's be honest she sang at Dr. Martin Luther King's "I have a dream…" march on Washington D.C. and has a great personal story with a song attached about Dr. King but you have to go see her to hear it, sorry! She talked about her ex-husband musician and activist David Harris who was arrested for draft resistance and did 20 months in San Quentin and did a great song by him about prison "Billy Rose". She also had a funny and instructive tale about doing time (1 month) with her mom in Santa Rita Rehabilitation Center after being arrested protesting that's worth the price of admission alone. Hey folks, I can't give it all away!
She told us she went down to support the Occupy Wall Street movement and found the young people there extraordinary. She talked with many of them and gave one of the protestors her ex-husband's number if they wanted advice on effective activism tactics. She met one young woman who said to her "We may not know what we're doing, but we know that we're right." Joan sang a song when she was there on Veteran's Day that she also sang for us with the altered lyrics that she wrote originally for Vietnam Veterans against the War. "Where's My Apple Pie?" She beckoned us all to sing along which I dove into with reckless abandon. Singing along is a time honored folk tradition she keeps very much alive. The original chorus went "Where's my apple pie? Where's my apple pie? We walked and wheeled form the battlefield. Where's my apple pie?" the new lyrics were "It's time to occupy. It's time to occupy. Sitting on the benches and trenches. It's time to occupy. We walked and wheeled from the battlefield. It's time to occupy".
Monday night at 1 a.m. (November 15th) King Bloomberg, who had made the decision at some point earlier that day in response to complaints by local businesses and the park's owners and with apparent information of the next day's restraining orders, ordered that the tent city in Zuccotti Park be dissembled. The park that had been inhabited for almost two months of mostly peaceful protest against Wall Street was to be razed. The protest was against the greed and criminally negligent financial irresponsibility that destroyed the economy of this country and squandered trillions of dollars. The park had become the modern equivalent of a barricade and the defining symbol of the protest that had spread to other cities around the country and the globe. With the help of thousands of NYPD officers Mayor Bloomberg, and he alone, as he repeated many times, finally evicted the protestors and arrested over 200 of them. These protestors had successfully transformed the political landscape of America from Tea Party madness to a sane focus on the robber barons running the banks and pillaging the nation and stealing our homes in violation of federal law enacted to help people avoid foreclosure. Bloomberg, everyone knows, owns the financial reporting company of the same name so of course he's out of touch. He may be an effective administrator but he could not tolerate this inconvenience anymore. Joan's advice on being arrested for what you believe in will certainly come in handy for those arrested and her lifelong activism is an inspiration for continued vigilance. The people united will never be defeated. Many are being arrested in the various protests spawned from the eviction. The OWS movement doesn't want to just sit and talk about this they want justice for all of us hard working people struggling in a financial crisis that could have easily been avoided. Trillions of dollars in wasted money just to create a little profit per day for the already over fed and over compensated do nothing financial community.
The two encore ending was deserved and she delivered two more sing-a-longs: "The Night They Drove Old Dixie Down" which for whatever ethereally intrinsic melodic reason has become her signature song. Then, because the crowd just would not let her leave, she did everyone, every where's anthem to brotherhood/sisterhood "Imagine" by the immortal John Lennon. Other highlights (and there were no low lights) were Johnny Cash's "Long Black Veil" which she and Dirk made very much her own. She also sang Donovan's "Catch the Wind" which she used to sing frequently with her dear departed sister Mimi Farina. There's an inevitable Leonard Cohen song in there too but which one? And another favorite of mine "There But For Fortune" that song speaks the absolute truth about how fate is really just a roll of the dice. No simple twist there.
All in all we wouldn't have missed it for the world. My wife Anne and I live for this kind of opportunity. Anne, a devoted fan for many years, finally got to see one of her all time favorite artists live. We have so many fine LPs, cassettes and CD's of Joan covering her entire career and we listen to them often. Based on the songs she played from her new studio album we'll be sure to add that one to our collection soon. I saw Joan way back at Tanglewood in Lenox MA one summer while in high school in the 70's with a full band. It was one of the greatest concerts I've ever seen and remember vividly dancing on the grass with a beautiful girl I had just met. This concert was every bit as good, not only did I now experience this with the girl of my dreams, but because Joan's style has evolved to include many new songs and stories along with the old favorites. So if Joan is coming to your town don't think twice, just GO! Steve Gabe © 2011
---