Folk Seen In New Jersey - by Steve Gabe
2012 was a good year for folk fans in New Jersey. In this first issue of Folk Talk Magazine I'll take you on a trot through some of the shows I went to this year. My first stop on the trail was at The Minstrel Acoustic Concert Series at the Morristown Unitarian Fellowship, where on any given Friday night you can meet and greet with the best the folk scene has to offer and hear some darn good music too. One Friday a month, the stage is given over to an open mike.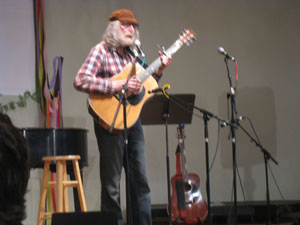 Speaking of Mike, Mike Agranoff, the lovable grand poo-bah of all things local and folk for as far back as we can remember, did a memorable three song set. He does both the Open Stage and headlines his own shows always with his trademark Greek Sailor's cap and a bucket full of tunes and stories that'll make you grin from ear to ear. He took the audience on a musical ride beginning with a tale about the parody law over his blistering finger-style guitar picking version of "Swinging On A Star" and then on to a concertina driven lovelorn lament and just for good measure (for measure) ended with a side-splitting spoken word ditty about the true meaning of Hamlet. Embedded in the "Swing On A Star" parody(written by Pat Donohue) was a monologue about how the copyright owners wouldn't let him put it on his new album. So although he didn't get to put it on the album he still performs it. His musical law lesson points out that complying with the copyright "fair use" parody exception can be anything but fun. The Minstrel is produced by The Folk Project, which also hosts many other folk music events including a contra dance series called "Swingin' Tern Dances. For more, see Folkproject.org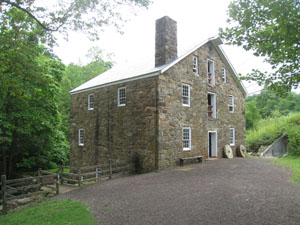 My next stop was at the Old Cooper Mill in Chester where my folk music tour almost came to a halt when I arrived five minutes after "Fiddlesticks" had been playing for the past three hours at the 1890's Music Day at Milltown. I asked if they wouldn't mind playing a few more tunes and they gladly complied.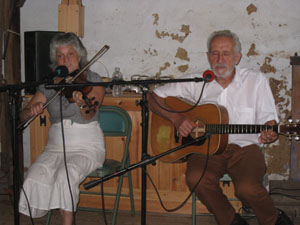 Nancy Shill's sugar sweet vocals and her heart-wrenching plaintive violin coupled with Charlie Pellegrino's perfect made-for-her-alone harmonies and his swift kick-in-the-pants rhythmic guitar picking style make them a great duo for hire. Nancy will tell you where the songs originated and they have the ability to make you think you're right back there in that simpler time many folk fans long for. Charlie's a virtuoso sign maker out in picturesque Lambertville, NJ. pellegrinosigns.com contact them for gigs at (215) 579-5733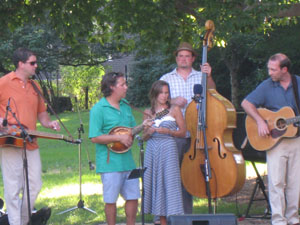 I got a nice two-fer-one at the next whistle stop on my folk tour at an on the lawn garden concert at Macculloch Hall in Morristown (Maccullochhall.org) where Gary Reed and Hub Hollow split the bill because of an earlier Hub Hollow rainout. I was at the rainout yet another almost missed folk op and was disappointed that they cancelled the show because it was raining on and off so I callously quipped to the promoter "Why would a bluegrass band even need a PA system?" Well I found out why, they just sound so good together that the audio enhancement truly enhances their gorgeous harmonies, melodies and the varied members soloing abilities.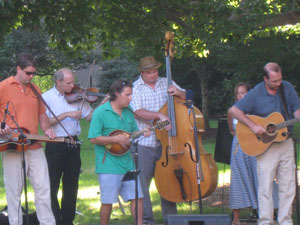 There's a reason why the promoter told me in return to my comment that everyone who sees them falls in love with them. Sitting on the lawn with my wife sipping wine listening to them under the willow trees was a late afternoon summer slice of real life heaven. Highly recommended and they even did a great version of the Grateful Dead's "Brokedown Palace" which was a nice bookend to Mike Agranoff's "Ripple" I heard him do a few nights earlier. Somehow some of the Dead's best songs are gaining stature as the years go by especially from their American Beauty/Workingman's Dead era. There was indeed a Mike A. sighting at this gig and now Hub Hollow is appearing at the Minstrel on February 15th for a Valentine's Day (after) soirée. It's nice to see that the local folk talent in NJ definitely supports each other. It makes living here so darn special. (Hubhollow.com)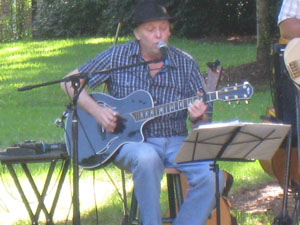 Gary Reed opened the show and displayed his brand of multi-style guitar work but throughout he showed us all why he's most known for being an original member of the Greenwich Village Folk and Blues Scene in the 60's and 70's with many appearances at Gerde's Folk City, The Bitter End, Café Wha? and many other legendary venues from the musical heyday of "The Village."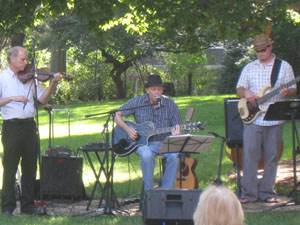 His trio included a violin/guitar master and a fluid bass man as well. His repertoire is deep and wide covering many decades of great songwriting, singing and guitar playing many of the songs his own. His bio states his case best: "…with influences ranging from Dylan to the Byrds, the Beatles and Mississippi Delta Blues" and his version of "Dear Prudence" was full of that magic and wonder of music from that bygone era. (Reverbnation.com/garyreed)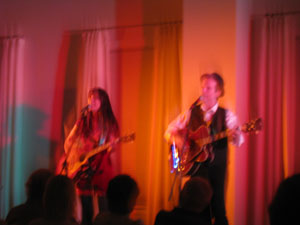 Are you still onboard for the rest of the tour? Well here's a doozy for you! The Sanctuary Concert Series in Chatham NJ serves up a heaping plate of steaming hot folk music from some of the genre's best known practitioners. (Sanctuaryconcerts.org) I saw an intimate "Kitchen Concert" which included a pot luck spread with The Kennedys, a husband and wife duo who are currently opening up for Nancy Griffith which is where they met back some 18 years ago or so more or less in Austin, Texas. Maura really knows how to perform for the crowd bringing the song's story to life each time she launches her lilting sparrow-like voice. Pete's no slouch and his guitar playing was probably the most thrilling I saw all summer. He takes a small figure and winds it up throughout his solo going from soft to softer to softest to where sometimes you have to almost lean in to hear it at its climax. What a light touch he has bringing out his guitar's natural vibrato and sustain while it gently accompanies his wife's many varying singing moods. It never detracts from her going through her reveries out there which is the duos main focus. My favorite tunes of the evening were the Kerouac inspired "Midnight Ghost" and "Matty Groves" kind of sea faring shanty both of which can be found on their new "Retrospective" album which pulls some of their best tracks from the many albums they've released and sold over the years. They were ensconced at a table during the intermission chatting, signing and selling albums as the audience continued to consume from the free-with-ticket huge pot luck desert spread. A good time was had by all. (Kennedysmusic.com)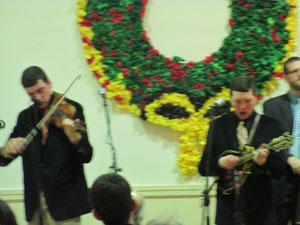 Well for my final stop on this Folk Train 2012 I got a little glimpse of the future of folk and bluegrass on First Night Morris just a few hours before this year of folk music would be put to bed. For my last live music of the year I was lucky to see the fine work of The Fienberg Brothers: Rourke (17) on fiddle and vocals and Patrick (15) on mandolin and vocals. Both have a classical training background and have been playing bluegrass for many years with many top musicians. I heard them at the venue known as the Presbyterian Church Parish.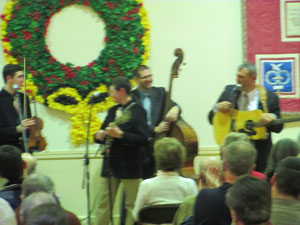 The kids play way beyond their years and sing songs of the rails and backwoods as if they were simply born to do it. The group is rounded out by Terry McGill on banjo, Keith Edwards on bass and their father Ron Feinberg, a bluegrass veteran who has shared the stage with such luminaries as Bill Monroe. I'm sure he's a proud poppa as he should be because they were the most authentic sounding folkie kids I've heard this year although he'd probably prefer you think of him as their older brother. (Feinbergbrothers.com)
Oh to think that heartfelt style of yore was just outside my backdoor in such abundance throughout the whole year and I still missed much more than I saw. Well, all I can say is that I just can't wait to see what 2013 brings and I'll be sure to tell y'all about it. Stay tuned.