Pete Seeger – A Life Well Lived (1919-2014)
We saw Pete, a true one name artist if there ever was one, for the first time at Carnegie Hall with the Guthrie Family this past Thanksgiving weekend. He was frail, but a 94 year-old Pete was still a most captivating performer. He entered in a majestic procession with all the various generations of Guthrie relatives from the iconic palace-sized doors on the hall's stage right. While he was making his way to his seat the sell-out crowd leapt to their feet clapping wildly and shedding tears of joy. He was assisted by the youngest members of the troupe as he made his was to his seat next to Arlo, his dearly departed friend Woody's son. We all knew we were blessed to be at this special concert that was ultimately never to be re-"Pete"-ed.
Pete led us in a sing-along to "Where Have all The Flowers Gone?" he prompted us before every new lyric to come and we were united in song. Then he did a good old fashioned storyteller-type song which had more in common with rap than folk while his fingers tapped beats on his banjo drum head, about why English is Crazzzzyyyy! We were all so quiet for this one that you could hear a pin drop and with each new verse of this long yarn about etymological anomalies there was not even the slightest hiccup in his memory.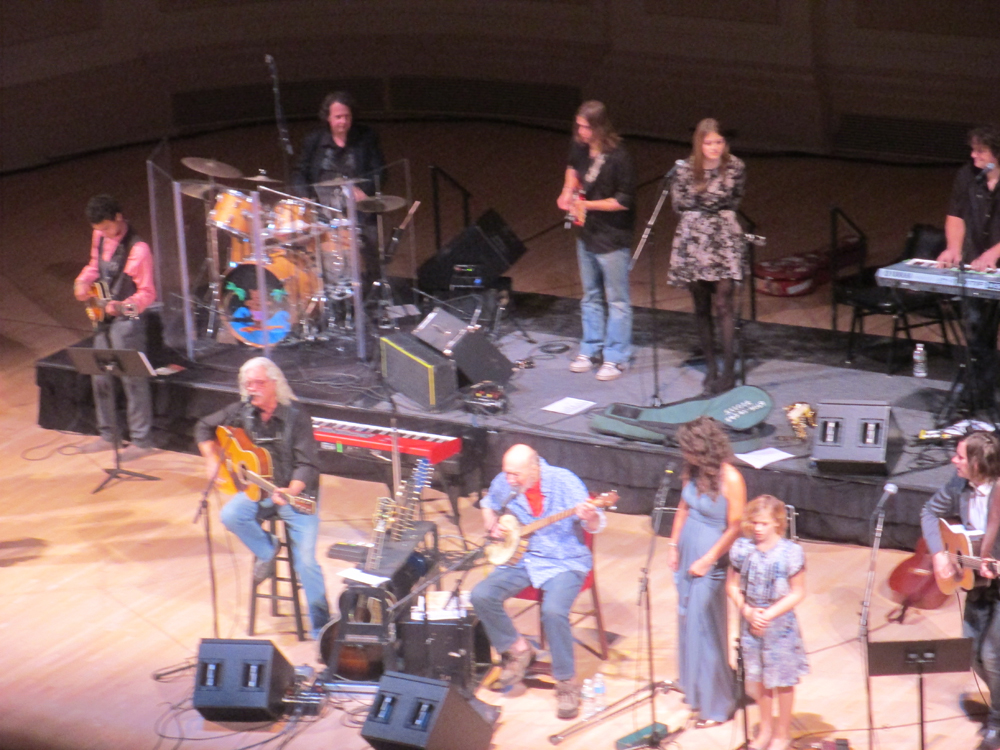 Arlo, the heir apparent of all these things needed to be handed down, was very much on his game and I have every confidence that he will carry the sizable torch forward. He did my absolute favorite song of his called "Highway in the Wind" that sent a chill up my spine. He prefaced the song with a long story of his own about how after a mediocre attempt at being a Greenwich Village folkie on Bleecker St., he went to California to stay with Ramblin' Jack Elliott his father's friend and touring companion. Jack took him to a rodeo and Arlo fell in love at first sight with the woman at the head of the parade. He went back to Jack's and wrote that song about a gal he never met. That gal eventually became his wife who also sadly passed away not too long ago. "Highway" is to me the most quintessential 60's folk rock song ever written. I had been telling my neighbors in our $35 a seat box seats just that when Arlo went into it. They looked back at me with the knowing surprise of a kismet moment shared. Nothing's better than to hear your favorite song by an artist singing it live. He also did a great piano version of Steve Goodman's "City of New Orleans" with another great story about Steve coming up to him in Chicago and asking him to record that emotive song about a passenger train that was being retired. Where have all the flowers gone indeed.
Pete was the anti-star all his life but he shined so bright wearing his trademark flower shirt. As musicians and folk fans we should never forget that it's about community and being together with song and not about the big star up there that people can look up to. That was probably all he was saying when he objected to Bob Dylan taking folk into the rock arena that fateful summer evening at Newport Folk Festival '65 when Dylan appeared on stage with a pickup band made up of members of The Paul Butterfield Blues Band he had just played with for the first time the night before. After three traditional acoustic numbers Dylan plugged in and changed the folk world in one very symbolic yet severely flawed performance. But apparently even that story is short on facts because Pete was most upset with the job the soundman was doing with Bob's set than any real objection he had to electrifying folk. However, the enduring belief that Pete's overall objection to Bob's Judas moment had to with the loss of folk fans and musicians as equals in one big sing-along being replaced by the lowly audience gazing up at their idols in awe is not such a bad thing. Now that rock has had its day and folk is back in vogue we can enjoy a new dawn of heartfelt poetic truth music that treats its audience as intelligent and worthy of respect. The recent American Idol style of artist discovery is not conducive to finding new artists with conviction of purpose when the purpose is solely to win a contest. As we cannot live on idol worship alone our modern plastic age may have helped create enough disaffection with the music industry to open doors to young ears.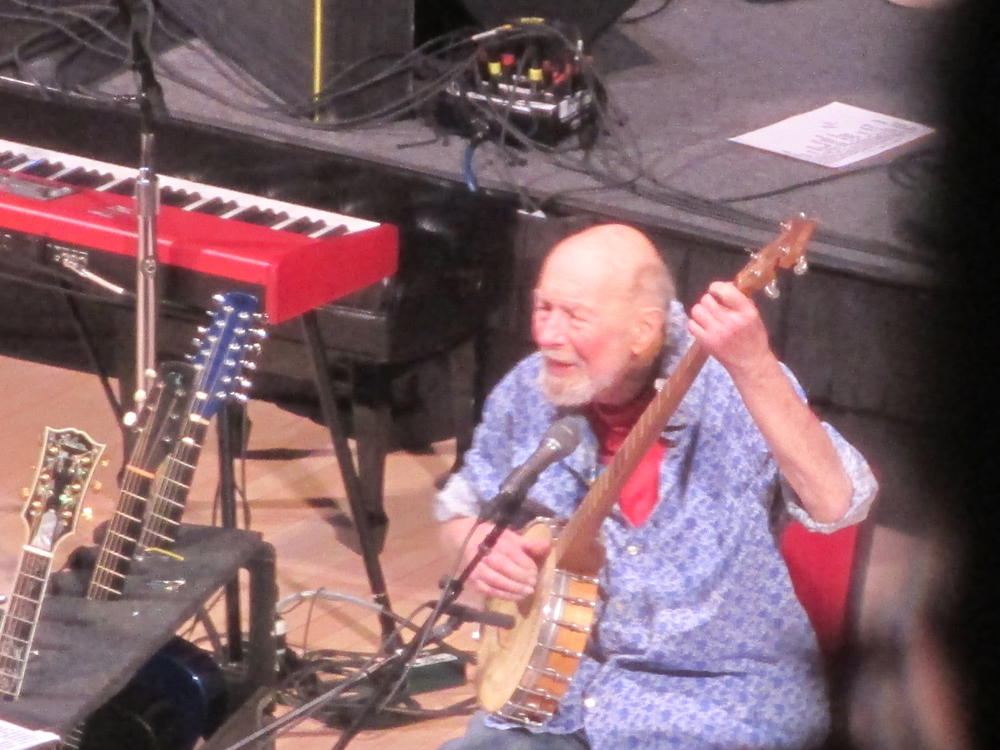 How appropriate it was that Pete's last performance was in Carnegie Hall the site of some of his greatest musical achievements. Pete's most famous band, The Weavers, held court there many times in their heyday and there's a loving documentary of their reunion in '86 that often plays on PBS. Pete's own celebrated live album "We Shall Overcome" was recorded at Carnegie Hall. These great moments were all rekindled one more time that cold Thanksgiving weekend November 30th, 2013 a night to remember and cherish. We were blessed to see him that one last time.
There was such a public outpouring of emotion and grief upon his transition to the other side. He was loved by so many and it's amazing that so many knew him personally and had such wonderful stories to share. Arlo, in his Facebook post said that in his meditation he had a talk with Pete the night he died. He said that he was having some trouble writing Pete's obituary and then they both agreed that he didn't need to write one because "they would say something appropriate in the news." For instance in the online issue of Rolling Stone they listed his greatest 20 songs with the video and a bit about each song's unique history.
In those 20 songs there are so many that everyone already knows, young or old. Wimoweh, an African tribal song, was first introduced to westerners by Pete who heard it on a tape made by musicologist/folklorist Alan Lomax in Africa who played it for him. There probably isn't anyone in America who doesn't know "The Lion Sleeps Tonight". Also, the TV show "Weeds" theme song "Little Boxes" written by Malvina Reynolds is a direct result of Pete's devotion to helping bring other songwriters works to light. Pete's unlikely 1963 hit with this ode to soul crushing suburban sameness taking over the American landscape in the late 1950's and early 1960's was on the "We Shall Overcome" live album that Columbia released as a single. The first season of "Weeds" exclusively used the excellent Malvina version released in 1967 on Omni Recordings. Subsequent seasons use a variety of popular artists' versions of this subversive song so cleverly disguised as a cheerful children's song. She wrote it in 1962 on her way to a meeting of the Friends of Legislation which Pete referred to as "Not the PTA". On her way to the meeting she pulled over and told her husband "Take the wheel I feel a song coming on" and sang it that night. Pete said that Malvina was "…the most unique songwriter in the United States, perhaps the world. She refuses to give up on the human race". If he's a great interpreter of songs he can write a catchy ditty too. Does anyone out there know "If I Had a Hammer"? Well then come and sing along!
If you're looking for a go-to CD, Pete's album on Folkways "If I Had a Hammer - Songs of Hope & Struggle" is probably the most all encompassing for one CD but being there live to sing with him was nothing less than a revelation. Two of my favorite videos I found on YouTube, not on the RS list, have great introduction stories. One is "You've Got to Walk That Lonesome Valley" with Arlo on keyboards. It has an inspirational intro where Pete relates a story Woody Guthrie told him about adding a verse or two to that song. It's about how when you take an old song and mix it with a new song you come out with something entirely different and long-lasting. The other is from his TV show "Rainbow Quest" a jaunty version of wash your troubles away "Down by The Riverside" with Sonny Terry and Brownie McGhee. The story is priceless, no spoilers, but suffice to say the rich man needs to worry about money too just like the poor man or the man with a little money in the bank. In other words we all need to worry about each other. The playing is gleeful effortless perfection by the foremost practitioners of the folk blues tradition. You can see how happy and excited they all are to be playing music together and they look like they're just in his kitchen having a good old time of it.
Pete was able to navigate through the McCarthy era of censorship and blacklisting in a way that just "sold more tickets and gave me free publicity" even though he was targeted and suffered, he took it in stride as par for the course. He wrote on his banjo's drum head circumference "This Machine Surrounds Hate And Forces It To Surrender" in response to Woody's "This Machine Kills Fascists" epigram on his guitar because he felt Woody's was too violent.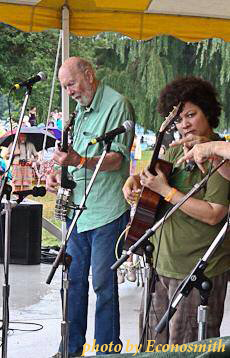 He was an early advocate and tireless champion of many environmental causes especially the preservation of the Hudson River. He created the Clearwater Folk Festival where New Folk City's own Pamela Means played in his band in 2008. His sloop sailing vessel was designed to sail folks around the river and educate people about the importance of saving it from pollution in an up close and personal way, which always was his way, Pete's Way. His single greatest contribution to music was that he felt that it just wasn't a concert unless people sang along. There is a movement afoot to name the new Tappan Zee Bridge the Pete Seeger Bridge and there's a petition floating around the internet to get Governor Cuomo to back it. I think that would be a wonderful legacy.
The best "Pete" story I've heard so far is that Woody Guthrie was in a group with Pete called the Almanac Singers of such 40's sing-along hits as "Round and Round Hitler's Grave" and "Get Thee Behind Me, Satan". Woody said to him while showing him the ropes and virtues of riding freight trains…that when in need of funds, all you need to do is walk into a bar with your banjo on your shoulder, buy a 5¢ beer and sip it slow, and eventually they'll ask you to play and give you a quarter. Pete spent his life fighting for equality and workers rights. Caring about the great legacy of artists from the past leaves us something to look forward to in the future. Without that we'll have endless repetitive nonsense because Americans are CRAAAZZZZZY!
Thanks Pete. The world is a better place because of your life well lived.
-Steve Gabe, Writer/Editor