Jimmie Vaughan / Lou Ann Barton and the Austin Blues Explosion 1978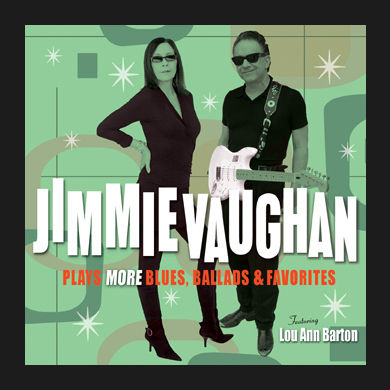 SRV Speaks (from the Stevie Ray Vaughan Album Couldn't Stand the Weather): "One of my favorites has always been Freddie King's Hide Away and things like that, Albert Collins' Don't Lose Your Cool. A lot of people don't realize today but a lot of music that came out years gone by, I don't know that it's so much this way now, but it seems to me that music used to be more based on common everyday occurrences like the train sound going down the track, someone walking down the street, things like that…a horse walking, you know that's where these rhythms came from."
On July 15, 1975 Antone's Blues Club opens with Clifton Chenier and His Red hot Louisiana Band. I arrived in June of 1978 got a job as a Cajun Seafood cook next door with owner Clifford Antone's Port Arthur buddy Robbie Grieg's Mama's Money after getting an audition to lead sing in a band shortly after I arrived. The guitar player was the oyster shucker and bar manager at the restaurant. For the next 60 nights I saw Jimmie Vaughan and The Fabulous Thunderbirds open up and close every night there was a show. In between I'd see Clifton, Bobby "Blue" Bland, Albert Collins and many other blues legends coming on through but most of all I remember Jimmie playing early and late never stopping until that last call was over and the lights were on. He loved to play and I'd go in the back door after the nights clean-up and final garbage dumpster toss hoping not to hit a bum chowing down in there on the oysters the guitar player felt were unsuitable for us to serve but gourmet to them. I was just a greasy fish fryin' cook. Oyster Po-boys; Stuffed Red Snapper and Flounder; Butterflied Gulf Shrimp the size of a chromatic harmonica; and for especially drunk patrons Frog Legs fried into various risqué sexual positions. Jimmies blues got to me. I didn't ever get to play but I watched and learned as much as I could. I'd ride my bike home down E. 6th Street with my tail firmly between my legs much as I would leave Austin that next fall when they were to bulldoze our little stretch of blues paradise and replace it with a parking lot. I was a witness but not a player and knew deep down I'd never be a real Texas Blues player. Best I could hope for was getting out of Dodge alive and keeping these memories locked up all these years waiting to finally see how it all fits together looking back. These were the new blues legends I was seeing in their prime and they earned it the hard way night after blistering night. I went to Austin full of dreams, hopes and aspirations and in some ways never left it behind always knowing exactly how high the bar was.
Jimmie Vaughan in the liner notes on "Girls Go Wild" his first album recorded in 1979 says that he went to Austin from Dallas for the same reason I came from Northern California because at the time "Austin was kind of a hippie place and you could go there and do anything you wanted." He went on to describe his feelings about music "The best music-I'm talkin' about real hillbilly, swing, Cajun, Tex-Mex, and, of course, the blues, has been made by people who never studied music. You don't need to analyze it or study it or talk about it. You just know that it make you feel…that it makes you feel good."
That summer of '78 I also saw Lou Ann Barton with Stevie Ray Vaughan at a little club (One Knite?) for $5 all by myself sitting quiet in the corner and they played their hearts out. Lou Ann's voice has stuck in my head ever since. She first played with Jimmie in the Thunderbirds but since there was so little money she had to leave and joined up with Stevie and W. C. Clark to form the Triple Threat Review. There was some glory down the road and her album Read My Lips on Antone's Records is an excellent way to experience the wild stormy sultry syrupy sexy and down home bluesy voice of the undisputed Queen of Austin Blues.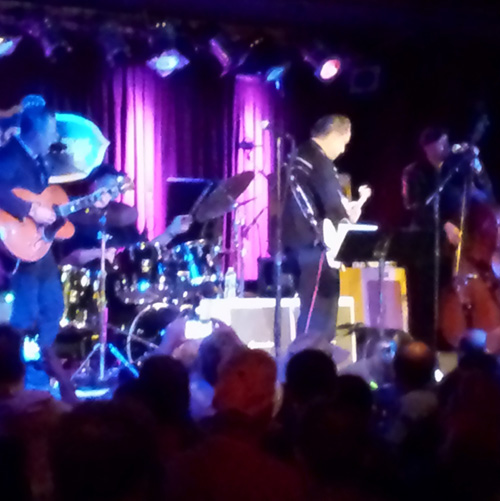 Recently, we went to see Jimmie and Lou Ann with the Tilt-a-Whirl Band at B.B. Kings in NYC and it all came rushing back. This article is in no way a primer or anything else that can replace the purchase and repeated listens to their truly perfect album on Shout! Factory Jimmie Vaughan Plays More Blues, Ballads & Favorites Featuring Lou Ann Barton. Breaking Up Is Hard to Do shows off her signature style but the real issues here is Jimmie and his voice blending together with hers and the way he blends with his guitar too. He's got that Patsy Cline ache in there and his guitar licks sound like he invented that deep yet unencumbered by electric blue's sound. But Buddy Guy summed it up best in his recent book When I Left Home: "He played the blues the way blues should be played. He knew what not to play and how to make you want to hear more." And as far as Lou Ann goes Buddy said "a white girl who sang the blues black." Buddy also said about Clifford in '76 "Seemed like the public had turned their back on the blues, but down here in Texas they was blues crazy. And this man Clifford Antone had a love for the music as powerful as anyone I'd ever met. I was thinking-no, I was feeling-that love might be reason enough to go to sleep that night with a little hope in my heart."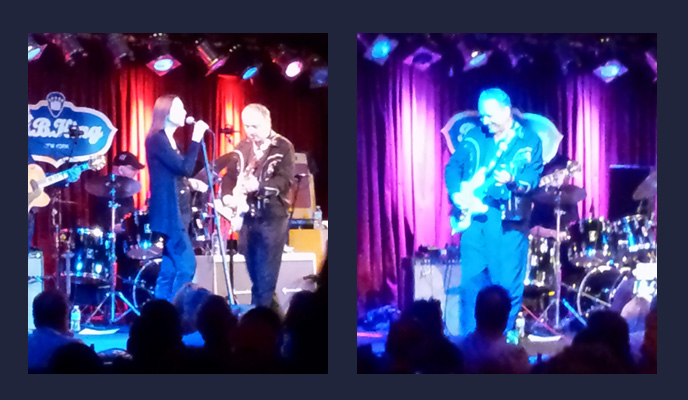 The Jimmie Vaughan solo album Strange Pleasures is a great flawless place to start and works well and as a companion piece to The Vaughan Brothers only album together Family Style (Tick Tock being my favorite track). In addition, there are two tracks from Stevie's Couldn't Stand The Weather (that one a tuff wait and get it riff-just try to count it I dare you) and The Things That I Used to Do. Touring with Jimmie Vaughan and Friends featuring Lou Ann he played in NYC's Jazz at Lincoln Center at The Rose Theater June 16, 2011 in The Texas Blues Summit. The group also featured W. C. Clark (the third of the original triple threat on Bass); and ZZ Topps' guitarist and lead singer Billy F. Gibbons. Jimmie and Lou Ann are more in demand and more in the spotlight now than they were for most of their careers. This is a renaissance moment for them as well as the blues.
The blues club is finally back for what seems is for good so let this be a historic monument to the blues as Clifford always wanted it to be: Antone's Nightclub now located at 305 E. 5th St. around the corner from its original location. Antone's Record Store is still there too up on 2928 Guadalupe nearer the hopping campus strip. The old 6th St. haunts are gone but deserve to get mentioned here: OK Blues Records; Don Politico's Bar; Ed's Shoe Shine Parlor and of course Mama's Money. I'll leave you with my little moment when Clifton "The King of Zydeco" Chenier who was playing Antone's that night came into the restaurant with Billy Gibbons and Robbie told me to microwave up some of the gumbo and fresh fixin's quick. He yelled to stay out of sight because if those hombres thought for a minute that some stupid NY kid was cookin' Mama's gumbo back there I'd be out of a job. Well I got the best blue crabs going to a boil and scooped up that molten roux mixed it with the sautéed troika and then popped it all in the microwave in just about 5 minutes those guys were crackin' those crabs laughing up a storm and eating Mama's home creole cooking. I was not to meet them not even look them in the eye. But that night I heard the Jimi Hendrix of accordion and Jimmie afterwards paying his dues and I was smiling too. At one point Jimmie closed his eyes and played a 10 minute solo over his head, between his legs and behind his back with the band long gone and the bright lights on. Everyone was hanging on every last note. No feedback no hum just stings going wild and then he lifted that guitar high above his head and threw it down on that stage.
Plunk. Wow. I never saw nothing like that. Nobody made a sound and then eruption. Jimmie was king.
-Steve Gabe, Writer/Editor