Welsh Sensations CALAN Appearing Live!
September 23rd @ The Folk Project 8-11 p.m. Morristown Unitarian Fellowship, 21 Normandy Heights Road, Morristown, NJ 07960 Contact: Pam Robinson 908-591-6491 concerts@folkproject.org / folkproject.org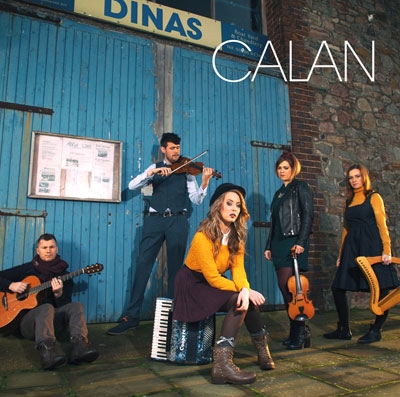 The only thing better than having seeing Calan, the Welsh traditionalists of folk's new wave, last July 3rd at the Folk Project on their first US tour is getting to see them play this acoustically superior, spacious yet comfortably intimate venue again this coming September 23rd, 2016. They will hopefully have an easier time with their work visas. Bethan (lead singer, step dancer, accordionist) charmingly related to us the harrowing tale of how two members, Patrick and Sam, were immediately deported upon arrival in the US. The sole fault being that the British Embassy printing system went down that day and the US authorities found the passports defective although all their paperwork was in order. Rough start but they persevered. They played one show with friends replacing the two boys but waited for them to arrive to continue the tour. All straightened out we saw one of their first shows. Based on their performance keeping these folkies out of the country is not a good immigration policy.
Americans can learn a few tricks from these maestros. Their best trick of all is that they have no tricks unless you consider youthful exuberance mixed with unusual Welsh instrumentation and their tuneful language called Cymraeg or y Gymaeg . Calan which means the beginning of the month or year may indicate that their music is like a new beginning. With the mixture of dancing jigs and hummable softer songs that break up the pace they keep the listener fully engaged. The very smart sequencing on their most recent album of "Giggly", a tender hit-worthy ballad with heart melting vocals and plaintive guitar lines just perfect for a moving moment in a major motion picture, cleverly juxtaposed before the stepio funky almost raver tune "Gwdihw Shoes." They are able to carry the audience along whereever they want to go whether live or on "DINAS" their stellar Sain Label 2015 release. (www.sainwales.com)
Starting with "Betts" (Bethan Rhiannon Williams-Jones) one could not compare her voice to anyone although vintage Jewel comes to mind on the more modern pop style songs. She is completely original and a true star in the making. Her voice is nuanced and her superb diction makes the folk storytelling easily comprehensible. Of course when she sings in her native dialect she gives a few lyric translations first explanating what that kooky tuneful gobbldy gook actually means. The opening song "Tale of Two Dragons" is renaissance faire ready and they do it again in Cymraeg for the finale so you can learn a little Welsh too. It also makes for the perfect bookend to a fourteen song set that I love to sit back and enjoy front to back with headphones or at home on the couch except when I grab my wife and we dance around the house to one of those fast paced and well placed jigs. Like the 3rd track and one of many instrumental tracks "Roxy's Birthday Jigs" or the Genisis ABACAB era sounding "Jig-Sô". "Set Stephen" is my personal favortie. Half the album is instrumental and they help the whole song cycle go down real easy and repeat listens bare much fresh fruit.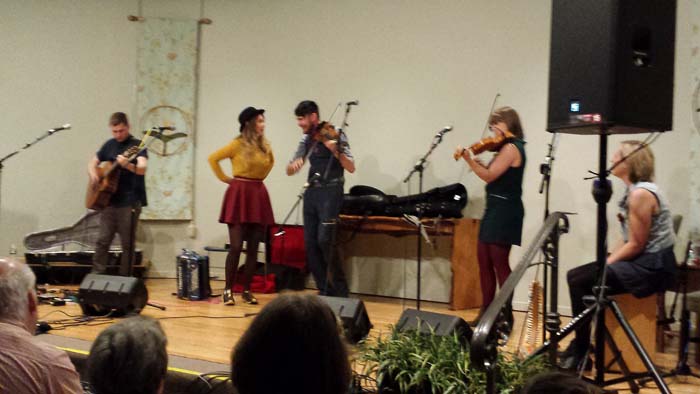 When they come this fall they'll be bringing a new album as their Facebook page indicates. They have just started to mix so it should be here with them when they come. In the meantime I'll sum up the entire DINAS album right now: enchanting & exciting. This is music that inspires with the fiddle, bagpipes, pighorn, whistle, piano and accordian of virtuoso Patrick Rimes. The guitars, bass and kick drum by second in witty stage banter, Sam Humphreys, are the ryhthmic workhorse they were invented to be but subtle when necessary, tight and fluid. Angharad Sian Jenkins the second first fiddler duels with Patrick and actually wins a few rounds. There's something special and magic in her style that goes beyond the typical. The two fiddle attack is gently layered and textured and when Patrick plays another instrument, the fiddle is still prominent. In this old fashioned style there's nary a song that can be done without the bow dragging across the strings carrying us along down the path. Which leaves Llinos Eleri Jones and what would a Welsh folk band be without a hot telynau player? That's harps, the ye olde traveling kind that she waves around like a shield in medieval battle but the sound is pure and soothing. Together the parts are much more than their sum. We're fans and you'll be too if you come to the show.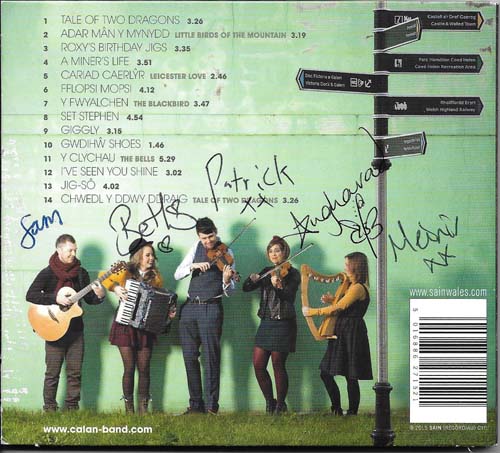 My heart jumped when Betts said "I like the enthusiasm of that guy in the blue shirt" she was talking to me. You can talk to them too as they graciously signed the CDs and chatted with all during intermission.
-Steve Gabe, Writer/Editor