The Ebony Hillbillies Barefoot and Flying CD Review
Folk music in America owes a debt to its African American heritage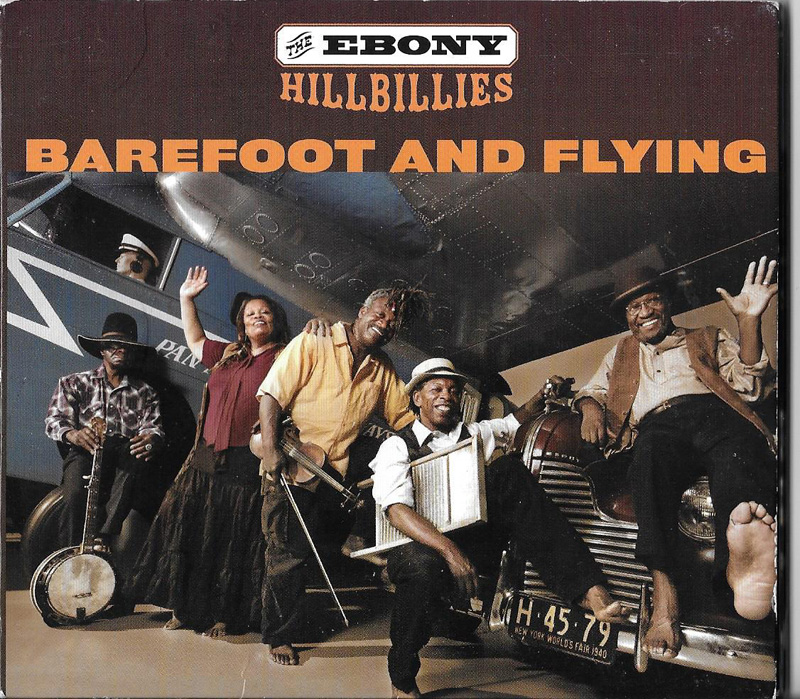 I first met or should I say heard Rique (Oheno Henrique Prince – violin/ vocals/ songwriter/ arranger) at the S Shuttle subway platform entrance. I knew right away I was approaching one of the many well-deserving officially sanctioned Underground Music Series acts who are given their spot and allowed to busk without harassment from the police or the MTA. I was immediately drawn in by the luminescent tones of lilting backwoods acoustic music. Once I saw the band's appropriately raggedy appearance I knew this was the real thing and decided to relax and stay a while rather than hurry off to work. I waited about 10 minutes enraptured in the music and when the song ended I introduced myself and was welcomed with Rique's warm smile and an extended hand. I handed him my New Folk City card. He was not impressed. The Great Folk Scare of 2013-14 was upon us and nobody seemed to care much about a little folk website when a new folk artist or act could play Madison Square Garden, get on the cover of Rolling Stone and be featured on TV shows. But the Ebony Hillbillies weren't on that train platform. The first Great Folk Scare was 1963-4 exactly 50 years earlier and resulted in launching the careers of Dylan, Joan Baez and others into the stratosphere much like today's Mumford & Sons, Ed Sheeran and their ilk. Once fame hits any music scene it leaves many early practitioners in the lurch while fame and money only descend on the chosen few. Such is the nature of any scene as it is absorbed into the main stream. The Nu-Folk scene is predominantly populated by white artists but back in '63 "Odetta Sings Folk Songs" was one of the best-selling albums of the year and folk was a fully mixed ethnic affair with Harry Belafonte as its most celebrated performer and goodwill ambassador.
I talked with Rique on the phone recently and he forwarded me to Walker their representative who after a few minutes of conversation felt I was on the right track and would be a good person to write about them truthfully explaining to the world what history had tried to hide: that American folk music and the music of African Americans are intrinsically connected. I came to the conclusion that I should simply begin our relationship by writing a good old fashioned album review about the CD I had bought the second time I stopped to chat after another 10 minute listen. This disc, their 3rd, is not only so darn enjoyable it is a mini-history lesson you won't get in school. They have chosen (or have been chosen) to play a style of music long forgotten. Walker said to me as long as I "got it", which after conversing for a while he felt I did, I could post a song and write an article with their blessing. As he put it "The Ebony Hillbillies play relaxing front porch music that makes the listener feel right at home."
Their unique take on folk coincides with two other African-American roots music stars that are rising. Jerron "Blind Boy" Paxton, a multi-instrumentalist who at just 25, is almost single handedly reinventing old-timey story telling music with touches of expertly played ragtime, country blues and folk (See Village Voice cover story and in-depth feature article January 21 Vol. LX No. 3). Not at all surprisingly but purely coincidentally Jerron is credited on the Barefoot CD with "great input" which can certainly be heard throughout the CD. The Ebony Hillbillies recently played a concert with Guy Davis who's been around but whose stature has been rising as of late with his ambitious theater meets folk blues concerts such as "The Adventures of Fishy Waters." The second great folk scare may be over but the rise of the poetic heartfelt truth musicians who are in it for the long haul is just beginning. Musicians need media outlets for the journalistic interpretations of their sounds and songs. It's time to tell the world about what's behind this most useful invention brought over by the folks who were uprooted in their own countries and forced to come to America to work for greedy landowners as slaves and yet still are not credited with the creation of what we consider today to be American Folk music. After all the banjo comes from Africa and what would bluegrass be without the banjo? Just ask Noam Pikelny the banjo player of the moment in the very popular and talented arena folk darlings The Punch Brothers or Steve Martin w/The Steep Canyon Rangers. In the above mentioned VV* article, John Cohen (Uncle John of Uncle John's Band for you deadheads) of The New Lost City Ramblers said about his granddaughter watching Jerron "She was totally taken in by him and I think that's so important." Bringing new fans of old music made by new artists is the most important development in music over the last ten years. But what is American folk music essentially and why is it becoming so important is this 21st century as the world runs down?
I found a clue in a recent New York Times** article about the recent "comeback" of Huddie Ledbetter more commonly known as "Lead Belly" who was first written about in that newspaper way back in 1935. Then in 1939, Times' reviewer Compton Pakenham re-stated what had been said about that particular record by Folk music archivist John Lomax that he "…believes that this is the first authentic album of American folk music" and the reviewer added "…and in all probability it is." I guess that pretty much settles it, the first great American Folk album was of music written and performed by an African American. The new five disc "Lead Belly: The Smithsonian Folkways Collection" was recently released. Certainly the point being made here is debatable yet there's little doubt that the interest in African American folk music is gaining momentum as the second great folk scare's top artists are becoming more mainstream and the grassroots practitioners fade away and the media hype dies down. This is exactly what happened back in '63-64 when the infrastructure of this last folk wave disappeared bowing out to the few who got successful careers and fame. The media always moves on to another form of music of the moment. Folk music is here to stay as long as we keep promoting it.
The Ebony Hillbillies' "Harlem Midtown Hoedown" will be held at NYC's Midtown Live @251 W.30th (btwn.7/8th Ave.) - on May 19th 2015, 7pm for NY State's official "Ebony Hillbillies Day". ALSO The new raw LIVE cd, "Slappin' A Rabbit" CD is due out on iTunes& etc...on April 29th.
A review, song by song, of the very fine Barefoot and Flying CD: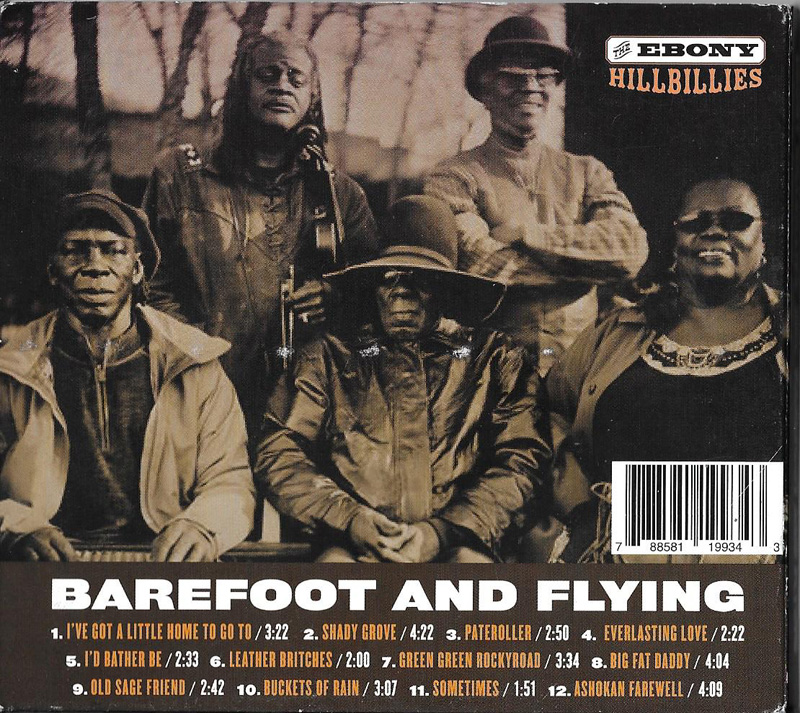 1. I've Got A Little Home To Go To – Opens the disc on a sprightly note moving things right along. It talks openly about the unknown history of the pre-emptive escapees going off the plantation running to the swamps of Florida rather than be sold away from their families which was often done as a tactic to keep the slaves down. The song is about a sense of having a home to go to. It's a jubilant jaunty little number that spits in the face of horrendous countless wrong doings. An anthem to the indomitable spirit of man written and sung by Rique with excellent soft shoe clacking of expertly played washboard percussion by Newman Baker. You can feel the rush or the wind and the brush of the branches and leaves as the man runs to freedom. Hope springs eternal in this song of the power of one against the powers that be.
2. Shady Grove – Our selection for the newfolkcity.com front page playlist is a front porch traditional song that everyone can relate to about a boy meets girl in order to marry for life. It's hard to pick a favorite but one good Shady deserves another so we went with it as ours and to showcase how each version of a folk song so differs from the others. Nobody covers a folk song quite like they do. We are proud to have the opportunity to share their take on an old classic. The fiddle sparkles in this going to get married by finding the wife of your dreams not even knowing who she is yet tune.
3. Pateroller – Back to the work at hand telling the story of the pateroller who were evil men paid to round up "wayward" slaves who had mostly gone off the plantation to visit their families they had been separated from. These poor whites were often much more vicious than the owners themselves because they were getting paid to be cruel and had no incentive to compromise. Remembering the bad things that happened is good lest we forget and be doomed to repeat our past. Still even here you can feel the joy in the music of the fruitless chase against the faster escapee and only the BOOM of the club striking down punctuates the high flying spirit of the now free man getting away.
4. Everlasting Love - The vocals are by Banjoist Norris Bennett. This is a fine example of a bluesy song sung like a soul tune but with bluegrass background. The effect of the old timey feel brought out by the traditional instrumentation along with the heartfelt singing gives these blues a modern touch.
5. I'd Rather Be – Rique wrote this one, a black pride number from a bygone era about the superior labor and skill of the African Americans compared to many of the other ethnic immigrant groups who came south and tried to take the work away but couldn't. A previously untold story about how the plantation owners observed the integral role that was played by the hard working slaves in contributing to the overall prosperity of early America. A great folk song sung with great emotion and skill. The lesson to be learned here is that the native born poor Americans would form exclusive trade guilds that would ban blacks from joining or from even apprenticing in a particular field according to the CD's liner notes.
6. Leather Britches – Nice instrumental which gives the listener a break from the learning-listening experience by giving a short respite from vocals. It paints imagery with sound that evokes traveling down the dusty country roads of life. Good driving music expertly executed.
7. Green Green Rocky Road – An African-Amercian children's play song from Alabama that has become a staple of the bluegrass oeuvre. Rique's voice is very rich and warm in this number. The background vocals of Yvete Rovira and Erin Boyd boost the whole to a greater than the sum of its parts. Hubby Jenkins, multi-instrumentalist of the Grammy-award-winning Carolina Chocolate Drops, adds some high quality guest guitarwork. The added swinging percussion by A. R. and R. Alderson rounds out this tour de force version of another tried and true folk revival staple.
8. Big Fat Daddy - Probably the hit if real folk records still had such things. Outstanding vocals sung by Gloria Gassaway. Sit back and relax and hear a tale of why skinny guys just don't cut it with this gal. A real good companion piece to Willie Dixon's "Built for Comfort" convincing all what Willie only hoped was true. It's all in good fun.
9. Old Sage Friend – Rique's the best fiddling around fiddler this side of yonder mountain. This song clumps along like a horse drawn carriage on a hot summer's day that's steadily headed towards the sleepy dusky horizon.
10. Buckets of Rain – Well here's another potential hit written by Bob Dylan off my favorite record of his "Blood on the Tracks" sung by the illustrious granddaddy of the Bleecker Street folk scene as well as so many mainstream FM rock hits including Wild in the Streets, Mr. Garland Jeffreys of Brooklyn NY. This song just makes one smile, pure poetry. It pays homage where homage is due. These are inspired lyrics and music. "I'm taking me with you when I go…" going on the road and taking your gal with you. A time tested tried and true romantic notion of the traveling troubadour. This version is a show stopping guest appearance by a legendary vocalist/song stylist beyond the reach for most acts. They seem to know and work with the best of the best out there today. One of those simple good old this and that, up and down tunes: da da da (up) da da da (down) guaranteed to make your day a good one. Hope springs eternal here and there ain't a man alive that wouldn't sing this to his favorite gal whether she decides to stay or go.
11. Sometimes – Done in church style, almost A Capella, with some percussion and call and response touches it is a great chance to get things going in a slightly different direction. But only if you have the voices to carry it off and here Gloria's ably leading the way to the Promised Land. This penultimate tune brings the CD to a crackling crescendo. The folklore honed "I'm gonna ball that jack" lyric is right at home in there too. The slang derived from how they used to stoke the fires of locomotive engines to go as fast as possible now means simply to take things to the limit or risking everything on one roll of the dice. It's a nice metaphor for the faith they had in putting together this folk album. But now that the dice has been played and the disc drwas to a close they have definitely come up aces. Now when people scratch their heads and say "What exactly is an Ebony Hillbilly?" or "I didn't know there was such a thing as an Ebony Hillbilly?" just direct them to this CD and play them any track because they are all great examples of what being an Ebony Hillbilly is all about. Listen and learn.
12. Ashoken Farewell – Composed by Jay Unger as a lament to bid thee farewell marking the end of another great day filled with music and dance at the Ashokan Fiddle and Dance Camps in New Paultz, NY. Those hoedowns held since 1981 are still run by Jay and his wife Molly Mason. This waltz in D is a fitting end to the CD too because there's nothing like a great heartrending waltz to gently dance things to an end on a slightly sad but rhythmically diverse note. See http://ashokan.org/camps.
For more info www.ebonyhillbillies.com. Look out for their new studio cd, due out early 2016.
-Steve Gabe, Writer/Editor
Note: The quotes used were taken from articles by Gili Malinsky* (VV) and Mary Jo Murphy** (NYT).