Hub Hollow "New Seed" CD Review
Well its Christmas time and here's a great stocking stuffer for folk and bluegrass fans or just fans of great original music made in New Jersey.
The first song even has the holiday-centric lyric "…cause Christmas time is here" even though "Night on the Town" is a going out tune that'd be right for any 6 p.m. anticipatory revelry but more on the individual tracks later.
So shop local and buy this disc. It is 100% approved.
---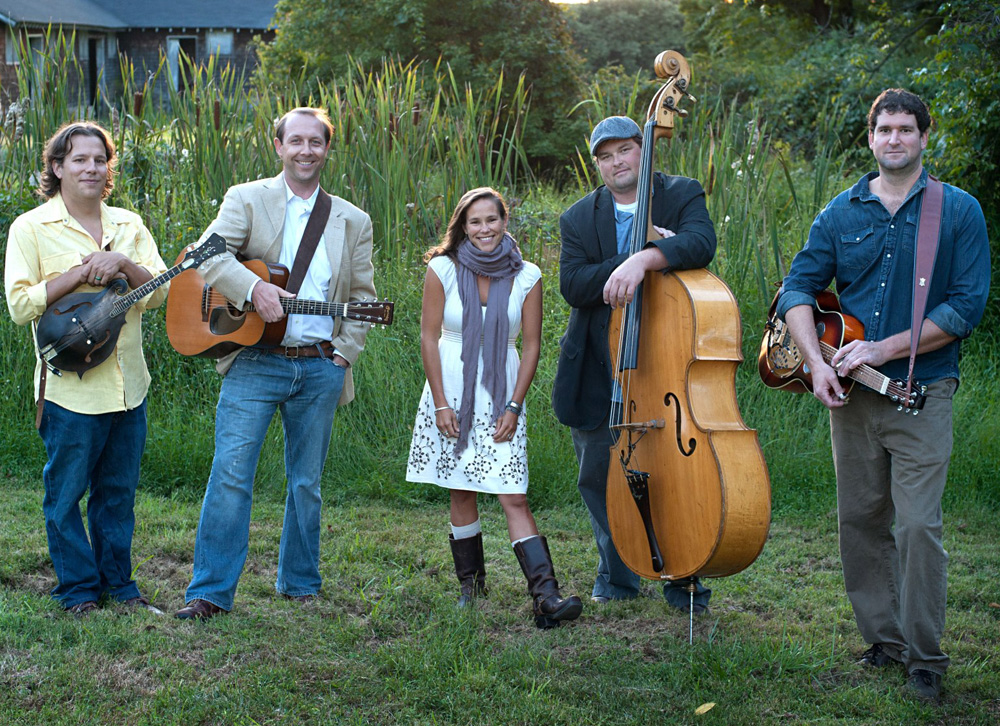 ---
In today's music world touring endlessly is admirable but one of the great things about HH is that they stayed close to home, growing up together, went to concerts together, John (guitar) and Jill (lead vocals) are married raising kids together and in addition Jason (mandolin, lead vocals) and Jill are brother and sister and the twin lead singers. Together is a word that comes to mind often in listening to the CD. In this instance the CD is really Jill's coming out party as she lead sings the lioness' share of the tunes and boy does she rise to the occasion. Speaking of occasions their shows are occasions (See Folk Talk No. 4 FOLK SEEN NJ) not simply another moment on the whistle never-stop tour most bands or artists find themselves obligated to do. The last time we saw them they played a full two sets on the grass in the shade on an extremely uncomfortable hot day and I swear it was the music itself that made us all feel cool. Nobody left until the last note that's for sure. There is just no sense of boredom or weariness in them that one often senses from artists that devote their lives to an industry that seems to think that driving around and doing gigs is a good way to live. By producing this great CD they have an opportunity to show us that by staying close to home you can write good songs about real things that stay with the listener and relate to the listener's actual life. These songs hit you in the head, heart and your feet feel them too because these guys swing authentic bluegrass style with the best. I believe a band like this can break through the muck of the multitudes out there and make a dent in me-too land.
Hub Hollow is a place if you consider it the place in your mind that gives you peace of mind. Listening to this CD from beginning to end I can attest that there is not a dud in the batch. Many listens reveal additional notes and flavors like a great wine. When they first went into Ampersand Studios, with studio owner Bob Harris on the knobs, they had just a few original tunes ready to record. They wanted to make a mostly original album so they dug in and learned the ropes that let the final form of each composition come to life slowly.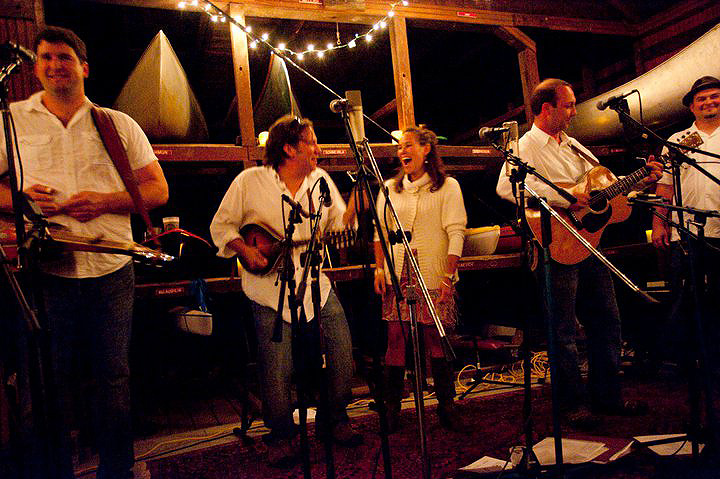 That's why you only hear Jason, who usually holds down half of the lead vocal duties, sing lead vocal on just one tune "You'll be a Lost Ball" by Jimmie Martin (a Bill Monroe "Father of Bluegrass" Alum) but that's a real winner with that nice rising harmony on the last line of the chorus that kicks your feet into high gear at the hoedown. So why one and done? No, it's not that bad old inter-band and/or sibling rivalry, it's because Jill is the originator of most of their originals. She'll usually have an idea for a lyric, an instant of inspiration, while tending to her kids or work-life routines and then grabs the nearest band member for a melody and musical accompaniment and Boom! A song is born, a seed has been planted, a "New Seed" as it were. Then each song goes through the ringer and after a lot of group debate and trial and error, permutations, amputations and perfections, it gets done. They have built a loyal fan-base on the strength of their unique versions of traditional bluegrass tunes and on stage (or grass) it's Jason who carries the lion's share of the front man duties. Yet they all knew deep down that only with recorded originals will they break out from the herd of all the great bluegrass interpreters out there and of course by writing some great songs. Are these great songs? Well maybe not every last note or lyric and it's possibly not as poetic or down home as some of the others out there but all in all and most importantly all together they make up a consistently brilliant new sound and represent a new take on an old familiar recipe. All I can really tell you to do is to buy it and try it for yourself.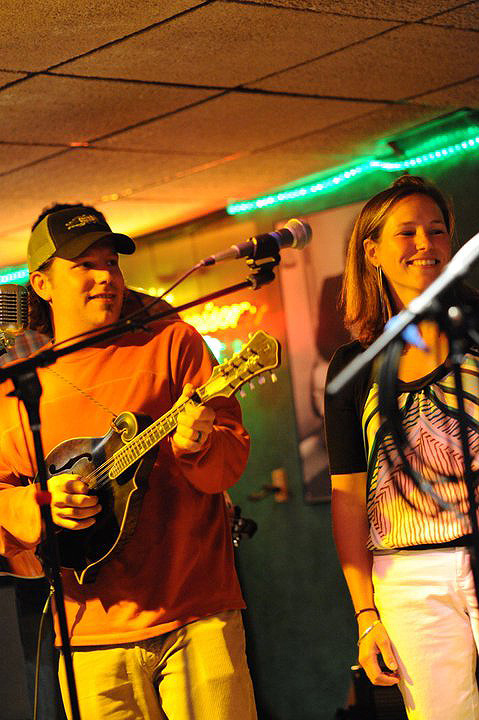 The focus on Jill as the front person on this disc makes for a very impressive debut of sorts for Jill's sweet with just a tinge of melancholy, round, full voice. If she gets some well-deserved comparisons to great singers gone by that might get the band further quicker. She sounds like herself but steeped in tradition. That's an asset you want to put on display and she's easy on the eyes too. When Jill sings "I'm not that way" you better listen because she means it. When the group's two, three, four, and dare I say sometimes, five-piece harmonies rise up in the mix there's no lyrics anymore, as good as hers are, just the voices combining as a single instrument. As with all bluegrass vocal harmonies if they didn't blend like a good morning smoothie you wouldn't keep listening to the CD over and over as I have been doing. Jason's lead vocal abilities, which apparently run in the family, take a back seat to his skilled contribution to the harmonies and his exquisitely executed and well-placed mandolin parts on this disc.
It's indeed these little leads in between the vocals and the big leads in the breaks that make the CD the success it is. They got them all right where they needed to be. Maybe next time they can shoot for the moon and invite in local folk hero, David Rimelis, who I saw play a fancy fiddle and a nasty banjo with them one time for some extra added musical flavor. But for now the trio of leads Jason, John and Tim Ryan on slide "Dobro" guitar, acquit themselves just fine. They do a great job by themselves so there really was nothing else to add here other than just a little extra trading back and forth guitar by co-producer (with the group), Bob Harris, on "Bone Days" which also features trading vocals between John and Jill. There's a whole lot of trading going on in that tune. Jill's clear voice mixed precisely with the group's harmonies is where the CD scores the A+ for production values.
Jill gets her lyric inspiration from her daily life. "Little Waltz" was written as she was singing her baby to sleep, so she grabbed John and said: "Here's a little melody but give me something for it." He would say: "well let's see… it's not exactly complete" or "it's too simple let's add this and that..." The kid was asleep and the song got written. Another one is the story of Hub Hollow a spoke wheel maker across the way from the home they built on "Solid Ground", co-written with Rick Chance their versatile standup bassist.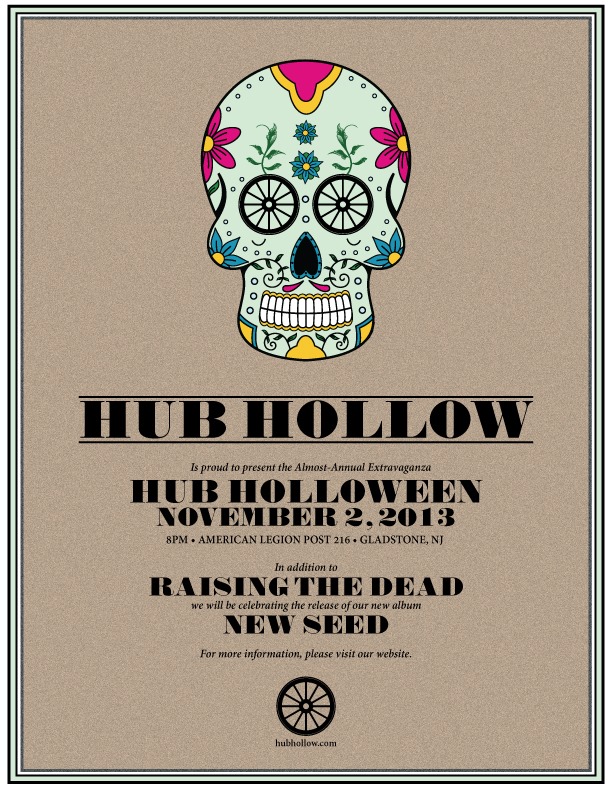 That's the song about where they always got together for the front porch jams which eventually became the band HQ. Something happened to that solid ground and now it's a memory. She writes a lot of the songs with Rick who is also the graphic artist responsible for the lush yet simple CD cover. He also did the Halloween record release party poster with two spoke wheels as the eyes of a skull. At this party they also played a couple sets of Grateful Dead and related material bluegrass style. ( rick@jerseydevilgraphics.com)
Other highlights on the CD are "Troubled Kind"…"Please let me in, I'm all alone" a never gets old sitting on the doorstep song with a sweet mandolin solo and John gets the lead out too. One of the only two covers on this 13 song disc is the aforementioned "You'll Be a Lost Ball" which to me sounds like a cross between two Beatles songs: "I've Just Seen Her Face" and "Act Naturally." Since it was written in 1954 you don't have to wonder which came first. This Hub Hollow version is so nice I had to mention it twice. "Best Laid Plans" is soft and upbeat with the lyric "Loyal to a fault is often the safest bet." Ouch! The title track "New Seed" is a welcome change of pace from the other tunes with a unique bridge that repeats highlighting the diverse quality of the songwriting here. All of these 11 original tunes take you in a different direction and could easily be covered by others. "Hills and Sky" is a dreamy number with the rolling bass line emulating rolling hills and the ethereal voce representing the sky. When this track unfolds you might find yourself thinking "Wow, now here is a different song altogether." I found myself leaning forward and listening in a little closer to see just what I could find there along this new trail. Jill is at her sultry best here and it also shows off Tim's solid slow building bluesy slide work. "Home" is comfort food for the soul and brings up the tempo just right which is another aspect of this CD worth mentioning. This is a finely ordered set of songs. They bring the listener up, then down, then up again always varying the tempo in precisely the correct manner.

The CD is not sequenced in the order of when the songs were written nor is a song cycle or even a chronology of life events. The reason it works so well is that the textures, tempos, rhythms, loudness, softness and all the juxtapositions they finessed into it was obviously what they were shooting for when they put the final order together and they hit their mark in the bull's eye. Tim sings the Bill Otis penned but yet another beloved Jimmie Martin staple "Rock Hearts" which keeps us nicely in touch with the roots of Gut Bucket bluegrass. Their achievement here is that they never stray far from the best of the genre. These are simple lyrics about the sorrow of having your heart broke by one who just doesn't care. They rock this tune in such an upbeat and defiant way that you know right here is the bedrock of the music they all love. Maybe they haven't written a Bluegrass classic like this one but you definitely get what you pay for and they're not afraid to show you what the masters have done alongside their own tunes. The last two songs on the CD are also winners with the aforementioned duet "Bone Days" guitar-fest and the let you down easy and quietly while still ending on a high note "Night Verses".
New Seed is a perfect gift for even a casual fan of this musical style which is experiencing its greatest popularity in over half a century. Check it out on CdBaby
-Steve Gabe, Writer/Editor